Your personal vision statement is a roadmap for your personal and professional success and will help to guide your decisions. Developing a personal vision statement starts with determining your true north. Once you've identified what drives you, or your purpose, then what becomes important is not how fast you get there, but the journey to the destination itself.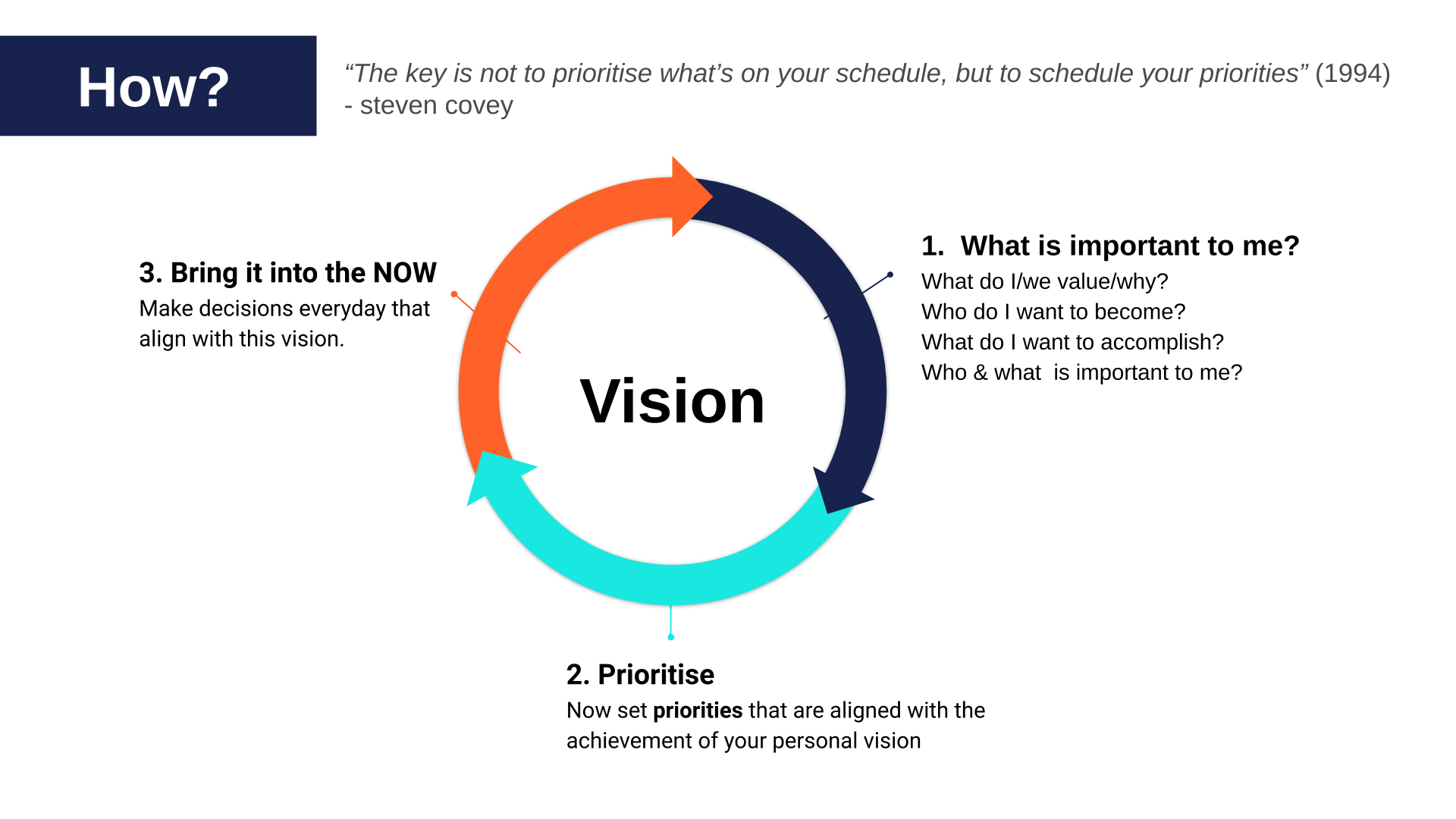 Part 1: What is important to me:
Knowing where you want to be in the next 5, 10 or 20 years makes it much easier to align your decisions and actions today with your vision for the future. Two of the most important questions you can ask yourself are:
Who do I want to become?
What do I want to have accomplished?
Part of answering the question of who you want to become is understanding who you are now, and designing the behaviours and habits that will help you achieve your goals and ultimately your personal vision. But before you can identify the habits you need to adopt, you need to reflect on your future self. 
Developing a Personal Vision Statement
Developing a personal vision statement allows you to define a vision for your future self that will guide your decision-making and behaviour today. Reflect on the following questions to define your purpose and develop your personal vision statement:
I wake up each morning because I want to….
I am energised by (people/places/activities/thoughts/when/during/in)
I am not energised by (people/places/activities/thoughts/when/during/in)
What legacy do I want to leave behind?
Where do you want to be at 80? 
Who do you want to be at 80?
I am particularly talented at? 
What meets a significant need in the world?
What and who is most important to you?
What do you want to achieve in your life?
What are your principles of doing and being based on?
Holistically you may also want to reflect on:
What are your physical needs? (clothing, food, shelter, wealth, health)
What are your mental needs? (to learn and to grow)
What are your social needs? (to love and maintain relationships)
What are your spiritual needs? (contribution and rendition)
Now, that you have spent some time thinking about and answering these questions, begin to construct your personal vision statement. This does not need to be perfect or complete but is a good place to start. 
Make sure your personal vision statement represents all facets of your life, including the different roles you play and the relationships you have with others, whether that's being a mother/father, a wife/husband, a brother/sister, a manager and an employee, so that you develop and grow as a whole being, rather than only excelling in one area of your life. 
If you enjoyed this activity, the LeadMe programme will give you a set of tools and activities each week to deepen this understanding and to support you as you align your current reality with your vision for future self. 
Created with